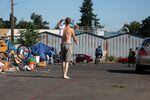 The number of people experiencing homelessness has risen in some Southwest Washington counties and fallen in others, according to the first official headcount in two years.
Clark County is home to 1,197 people experiencing homelessness, which is 281 more individuals counted than in 2020. Lewis and Cowlitz counties counted 120 and 271 people, respectively, down from 142 and 328 people in the previous assessment.
More specifically, the number of people deemed "unsheltered" — those sleeping outside, as well as people not in a shelter, car or a friend's couch — increased in Clark County. The unsheltered population rose by about 130 people, to 625.
The figures come from an annual effort known as the "point-in-time" count, where homeless advocates and county-level staffers embark for a single night to count and collect data on as many people experiencing homelessness as they can find.
The 2022 count, which occurred Feb. 24, is the first count since 2020. The coronavirus pandemic forced a one-year hiatus and also changed some of the methodology for the latest count to protect staff from potential infection.
Although the headcount isn't a complete picture, it provides a useful snapshot when compared with other years. The figure helps chart demographic changes, such as the numbers of families, veterans or elderly people experiencing homelessness.
Neighboring counts
Figures for Cowlitz and Lewis counties, which are maintained by the Washington Department of Commerce, do not show the numbers of unsheltered people in 2020. In 2022, the counties were home to 71 people in Cowlitz and 59 people in Lewis.
Longview City Councilor Ruth Kendall said the Cowlitz County count very likely underrepresents how many people live there with no shelter whatsoever. One homeless encampment near the intersection of Alabama Street and Oregon Way in Longview is home to at least 75 people, she said.
"We're also seeing people camping in doorways (at a nearby business district), at the park and other places as well," Kendall said.
The most recent count in Cowlitz County, she said, likely underrepresents the local population because of the difficulty of conducting the count during the pandemic.
"It would be nice to think it's gone down, but I'm somewhat skeptical of that," Kendall said.
The count was led by Cowlitz County Health and Human Services, whose leadership was not available to answer questions Friday.
In Lewis County, interim Director of Public Health and Social Services Meja Handlen said the pandemic hampered how many people could go out to count and interview people experiencing homelessness.
"We know that, because of COVID, street outreach and the things we intended to do (during the count) were really impacted," Handlen said.
While Cowitz and Lewis counties' counts may come up short, both officials said the snapshot showed their counties have a need for more programs to assist homeless communities.
According to Kendall, Cowlitz County is looking into the possibility of a hosted campsite. Such a site would allow people to camp and would be actively managed by an organization that would help people living there tap into services like housing assistance and substance abuse treatment.
Handlen said the Lewis County count showed a need for more overnight shelter. The county has one shelter where people can reserve beds, but it does not yet have the sort of first come, first served shelter that can help the rest of the population get off the street.