Last month, Dave Hunnicutt, a conservative lobbyist who has been part of some of the state's biggest land-use battles in modern memory, bluntly told a panel of lawmakers "developer is not a dirty word."
"A developer just provides a product," he said. "It's no different than a farmer. We're providing a product … a product the state needs, a product the community needs, a product the Legislature is saying is important."
For years, Hunnicutt, representing the advocacy group Oregon Property Owners, repeatedly told lawmakers that building in Oregon must become easier. For just as many years, that conversation sputtered in the Democratically-controlled legislature. In the common narrative, developers were often cast as the villains; the ones willing to devour Oregon's pristine open land in an effort to line their own pockets.
But now Gov. Tina Kotek, a Democrat, has called on state government to play a more aggressive role in building housing. Kotek issued an executive order immediately after taking office last month calling on Oregon to produce 36,000 new housing units a year, up from 22,000 or so builders now create in a year. That aggressive goal – and the ongoing statewide homelessness crisis – has shifted the political calculus in Salem.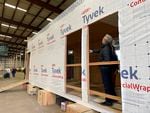 Case in point: as Hunnicutt lobbied in favor of one of this session's biggest housing priority bills, he was joined on the panel by Mary Kyle McCurdy, the deputy director of the conservation group 1,000 Friends of Oregon.
This time, both the conservationist and the conservative were urging lawmakers to make building a more efficient process.
Even the state's most progressive lawmakers are embracing the notion that in order to meet their collective goals — to solve the state's housing crisis — the state has to rethink its approach to housing.
For 50 years, the state has taken housing production for granted, Rep. Maxine Dexter, a Democrat from Portland, said recently. The state has fought to preserve land and prioritized citizen engagement in the land-use process.
Now, creating housing will be the primary goal.
"We will make sure local governments, special districts and state agencies work together to break down barriers and remove red tape that has prevented us from building the housing we need," Dexter said.
Our unique land-use laws
It's a remarkable shift in a state that has some of the strictest land-use laws in the country by design. The goal was, and continues to be, to preserve open spaces and farmland and restrict building to certain areas, preventing sprawl. The state's land-use system has made Oregon what it is today; an abundance of natural beauty, from the mountains to the beaches to the desert.
But Oregon's system for regulating development, created in the 1970s, also requires cities and counties to plan for enough housing for all its residents, no matter their financial capabilities. On that front, the state is failing.
Take the example of Kevin Shluka and his wife, Katie. For years, the two have owned an organic landscaping company in the small beach town of Neskowin. They have often struggled to find employees, making it hard to grow their business. Their employees couldn't find adequate housing, often sleeping in tents or couch surfing.
Along the coast, there are thousands of vacation homes, many of them empty for most of the year, Shluka pointed out. Yet, there is a severe lack of affordable housing where employees that care for the vacation homes can live. Shluka said he knows local firefighters who pull a 48-hour work shift and then drive back home to Salem.
The couple decided to build the first apartment building in Pacific City, which is near Neskowin. When completed, the project will be the town's first multi-family workforce housing. At every step of the way, Shluka said, the project received approval and then a neighbor promptly appealed; the process repeated itself at the planning commission level, the board of county commissioners level, the state's land-use board of appeals and then finally the state court of appeals.
"Four years ago, my wife said she would have been appreciative that the process seemed so democratic that one or two people could hold up a development," Shluka said.
Now that he's been through the system, he's questioning that logic. Four years later, the project can finally move forward.
"We were fortunate because our financial support was not in this strictly for profit," he said, calling the project "hyper local and grassroots." If it was strictly for profit, investors would have quit the project and it likely wouldn't have been built.
"If a project like this has this hard of time getting built, (the state of Oregon is) in real trouble," he said.
A shift in thinking
This session, lawmakers are considering a bill they hope brings wholesale change to the way housing is produced in Oregon. It's the start of a long process to shift the focus on production, including by creating a housing production team charged with helping cities better track what type of building they need and then remove barriers to creating it.
Another issue at play in the current landscape is it's hard to track where housing is being built and where it should be built. The state oversees land-use planning and policies. It's charged with funding affordable housing. But there is no system for tracking overall housing production.
What's currently known as House Bill 2001 would start by requiring cities with populations greater than 10,000 to identify what housing is needed, and at what income ranges, for the next two decades. Once the analysis is completed, the legislation also aims to make the actual process of building less cumbersome and less litigious.
The legislation requires the state's housing agency to launch a public dashboard showing cities' housing production targets and the progress they are making. The state would also play a more aggressive role in ensuring the cities actually build the housing they have deemed they need.
It's unclear what exactly all the state could do if cities don't comply, but lawmakers said the state would intervene, audit the city and work with them to meet the housing goals.
Kelly Ritz, the president of Stonebridge Homes, a builder in the state for more than two decades, said it's a welcome change of priorities. Twenty years ago she could get through an approval process and start a project within one year. Lately, the timeline has stretched to three or sometimes five years before a project even gets the approval to start. The process has gotten more complicated, more costly and more bureaucratic, she said.
"The timelines are killing us," she said, "and it's reflected in … how behind we are in housing units."
Economists estimate that Oregon is more than 100,000 housing units short of the current need. Although Ritz and other builders are hopeful lawmakers will make it easier to build, they are wary the effort could add extra layers of bureaucracy and also take too long to make an immediate impact.
"The governor is asking for a huge increase in annual units built and you can't get that huge increase without changing some of the laws and doing it right now," said Hunnicutt, the lobbyist. "And I realize it's hard because the legislators are going to have to tell cities, 'You can't have all the processes you're accustomed to, you can't demand all the applications you normally demand and even if your residents don't want to grow, they are going to have to meet their share … but if we are about solving the problem that is what they are going to have to do.'"
The immediate approach
Lawmakers have conceded the package requiring new directives of cities could take years to implement while the housing and homelessness crisis is clearly a problem that demands urgency.
Shortly after being sworn in, Kotek asked lawmakers to spend $130 million to prevent homelessness for more than 8,700 households, rehouse 1,200 people currently without shelter and create 600 new shelter beds within one year.
Lawmakers are planning to combine the long-term policy bill prioritizing supply with a more immediate funding package, which includes the governor's $130 million request along with another $80 million in funding.
The measures, House Bill 2001 and House Bill 5019, as they are drafted now, includes:
A change in eviction notices; landlords are now required to give 72 hours before evicting tenants. The current measure would require 10 days notice for a nonpayment eviction. The tenant would also receive information, translated into several different languages, on how to access rental assistance through the state. Eviction data gathered by the Oregon Law Center estimated there have been an average of 2,178 eviction filings per month since October of 2022, 88% of those which have been for nonpayment.
$25 million to address youth homelessness by helping school-aged children or their families who are homeless or at risk of being homeless. It would also allow for this money to be eligible for a program in which hosts families house homeless youth
$20 million to help develop more modular housing, creating a modular housing fund. Applicants for these grants are expected to prioritize disaster recovery areas, low-income and middle-income housing projects
A pilot project to help developers who are trying to build affordable to moderate-income level homes. It carves out $3 million for developers who need money for infrastructure costs if they are developing affordable homes. Each project or developer would be eligible to apply for $500,000 and the state would charge a 3% interest rate
$5 million in grants to help farmers improve living conditions for their employees
$27 million for 25 rural counties to help them address homelessness
Lawmakers are hoping to pass the entire legislative package next month.